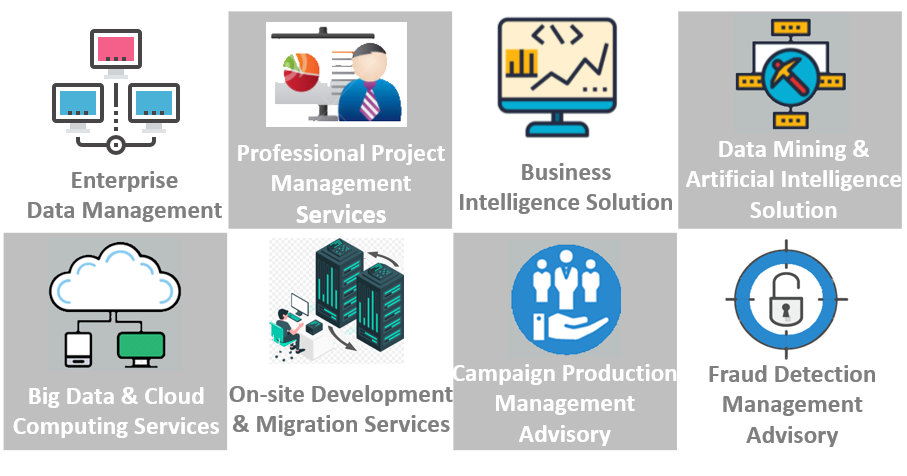 Enterprise Data Management
With in-depth experience in data management, we are providing completed and comprehensive data management services that aim at retrieving raw data into accurate and reliable content to facilitate business decision making and deliver cost-efficient data solution.

Our consultants are always ready to engage in different meetings and workshops to conduct face-to-face communication with all related management and working-level staff of our clients in a bit to gather meaningful and applicable business requirements. Throughout the project development, well-communication with internal staff and documentation on successful factors to collaborate a suitable and stable solution is essential to our clients' success. We are devoted to accomplishing the client's goals quickly and efficiently.

Turning business ideas into concrete and functional application systems is another strength for our development team, with abundant successful cases in the implementation of the data lake, data warehouse and data mart, we have relevant knowledge and skill to develop best-of-breed infrastructure design and ETL tool to provide the flexibility of data management solutions to cater for the fast-changing business needs of our clients.
Professional Project Management Services
Ensuring the project deliverables and fulfilling project timeline are critical to all our clients' success, DEVFAS provides professional project managers to incorporate with clients' internal team in managing the project daily activities and communications across stakeholders, and organize regular meetings to report progress and catch up on any issue.
Business Intelligence Solution
We have extensive experience in applying latest BI technology for addressing business needs of our customers – OLAP, traditional reporting tool, Bigdata technology. It is a good exposure to key industrial sectors: banking, insurance, telecommunication & health-care.
Data Mining and Artificial Intelligence (AI) Solution
With realizing the importance of turning data into useful information in assisting new business growth for our clients, we are passionate about rendering our experience and knowledge in data mining to discover and develop appropriate models to fit clients' needs.
Propensity model for predicting the likelihood of the buyer's behavior on the products marketing campaign to maximize future sales
Churn model (or Attrition model) for predicting customer attrition behavior, the number of customers who left your service for a given period of time and shows the potential churn rates to evaluate the business impacts
Delinquency model for predicting customer delinquency behavior, the chance for condition no happening within the scheduled time to reduce unexpected risk
Segmentation model for enriching the understanding of characteristics of customers, so as to facilitate the formulation of proper business strategy to assist the business growth
Big Data and Cloud Computing Services
With DEVFAS consulting services, we are strong in analyst business needs and transforming large or complex data into meaningful and beneficial information. Starting from the collection of data, we are experienced in communication with different stakeholders and improving the accuracy and quality of source data. And followed by customized systematic extraction and transformation, our consultants are well knowledge on handling various situations and massage data to meet reporting purposes.

Cloud computing is another service we are delivering to utilize "software as a service" model to allow clients to simplify data processing and extends flexibility and scalability in infrastructure maintenance. We can design and build up suitable infrastructure and software to develop and support your business need.
On-site Development and Migration Services
DEVFAS with in-house technical consultants and functional consultants can assemble the team to start work immediately. We can also do additional hire your desire talents to best fit your demands. Based on years of practice, we can integrate with your ongoing projects smoothly and painlessly.

Owing to business growth and tremendous technological advancements, DEVFAS provides comprehensive solutions to design, implement and testing to meet your need when migrating existing data warehouse projects into new platforms. We have expertise in data model, infrastructure, software and support services to revamp your data warehouse relevant knowledge and hands-on experience, we garner all your requirements and optimize the result and improving the performance.
Campaign Production Management Advisory
Consultants with years of experience in applying advanced analytical skills (business intelligence, data mining) and market best practice to improve the capability and effectiveness of campaign production.
Build customer segmentation to align with the marketing strategy of our business partners
Apply propensity models to target high potential customers to improve the advantages of the marketing campaign
Bring in the best practice of campaign management in the industry to streamline existing campaign production work-flow and cost-saving
Optimize the usage of customer contact channels (e.g., SMS, email, call center)
Implement best of breed campaign management software, for example, SAS Marketing Automation.
Fraud Detection Management Advisory
As the data transactions become extraordinary large and complicated, there is a potential risk of fraud that impacting the corporate risk management for companies. Especially for financial institutions, DEVFAS has collaborated with banks in building up fraud detection systems in order to promptly and continuously discover and recognize potential suspicious transaction activities. Well-versed DEVFAS consultants are keen to deliver and support all-rounded solutions.